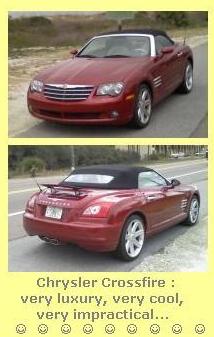 The funny things and surprises followed me all this trip.
On my arrival to Pensacola it turned out that all compact size cars ( I reserved a compact car as a cheapest ) were already taken. The only compact car that was left was a luxury «Chrysler Crossfire» which they had to give me for the price of a general compact car. Well, I have never seen such luxury, but impractical vehicle.
Having plenty of luxury components ( convertible roof, seats with heating, advanved automatic transmission, very powerful engine, etc ), it had only two seats, two doors and NO trunk at all ! I took the driver's seat, put my luggage ( a bag and a backpack ) on the passenger's seat, and the car was completely full. Besides that, the vision from that car was extremely poor because of its small windows, especially the tiny rear window.
Well, it was what they call "blyadovozka" ( = "slut-carrier" ) in Russia since that car is good for carrying and entertaining the sluts only.
Of course, it had a provocative red color.
In such a car I felt myself as an upscaled teenager...

«Well, there is no way to avoid the adventures with such a car !», -- said I to myself as I saw it.
And I was right. The adventures didn't make me wait for them long...
It was past the midnight when I got to the motel. The reception was already closed and I directed straight to the box where they leave keys for the late guests. I stayed many times in that motel, and every time when I was coming late I used to find the keys in the box. This time the box was empty. Taking into account the time ( it was already past 2am ), the temperature about 5C ( 40F ) and the strong wind, the perspective of spending the night at the street on in the car was not attractive at all.
I looked around the entrance trying to find a night bell or something like that, but nothing was there to let somebody know about me.
I decided to make a call. I took out my cell phone to dial motel's number, but another surprise was awaiting me : the cell phone was not working because it received no signal : the really «Forgotten Coast».
Yes, my cell phone which was working fine even in rural areas of Kenya and Tanzania turned to be a useless thing in that part of Florida.
I sat in my car, drove to the nearest gas station and called the motel from a public phone. Nobody answered. I returned to the the entrance of motel and just started to make a noise knocking and slamming into the door ( exactly what the possessor of such a car was supposed to do...
). I hoped that some night guard or security would hear me. I didn't want to sleep in the car which was too small even to sleep.

Eventually, after ten or fifteen minutes I noticed some moving behind the door of the motel's bar. It opened, and a man and elder lady appeared. They turned out to be from the bar night staff : they were just finishing the cleaning and were going to leave also. Nevertheless, they asked me to follow them, we came through the bar and got into the reception from the back entrance. After they looked at the papers and checked my reservation they figured out that the receptionist made a mistake : my key was awaiting me the previous but not this night.
«Not a big deal... Not a big deal...» -- that's what the man kept repeating while he was checking for vacant rooms. Eventually he came up with a key, wrote down my credit card number, gave me the key and asked to appear in the reception by the noon to complete the paper work. I appreciated, said «good night», and ran to my room. To my surprise, the door was not locked though it looked quiet and dark behind the door... I carefully opened the door, and...... I saw a working TV showing some adult video as well as a couple in the bed ! The room was occupied ! I don't think they noticed me : I promptly retired and rushed back to the bar hoping that those people are still there. They were not. The bar was locked. I turned around, rushed to the main road and saw them right leaving. I shouted, they noticed me and stopped. I explained the situation. «Not a big deal, not a big deal...» -- they repeated again, returned back to the reception, looked again through the papers and gave me another key.
This time my door was locked. However, now I was extremely careful. I unlocked the door, made sure that the room is really vacant, and only after that I entered it and switched the light on. I happily rushed to those people in the bar to appreciate and to say that everything is eventually great. Well, I was sorry that I had such impulse.
No, they hadn't left yet, they were drinking water and talking, but when the man saw me the glass dropped from his hand and broke... He decided that he placed me into the occupied room again.
The only thing they told me when I explained why I came again was their kind request not to come for appreciation any more but for problems only...

They were nice people. I was happy that I met them.
Another funny thing happened when I was buying a sub in a «Subway» restaurant. It was a curious exchange between me and an elder man who was making a sub for me. Well, there are a very few aliens in that area. Not only a person born in a foreign country, but even somebody from another part of the USA is a wonder there. That's why they frequently ask «Where are you from ?» as they hear the accent. When that man learned that I am originally from Moscow and I am eight years in the USA, he wondered whether I met his friend who went to the Eastern Russia ( Pacific Coast of Russia ) ten years ago as a religious missioner, and spent a couple of weeks in Moscow... I think he just didn't realize that there are cities in the World where two weeks is not enough term to meet everybody and remember forever...